Hotels in Darjeeling with free cancelation
Hotels in Darjeeling with free cancelation
Searching for good Hotels in Darjeeling with free cancelation is always a difficult task because, Darjeeling is very small city. When tourists are planning a trip to Darjeeling one of the most important decision they make where to stay. It is true that, there are many factor to think, such as location of hotel, room rent, and amenities. However, one factor that tourists always ignored is cancelation policy of hotels in Darjeeling. If anybody needs to cancel trip, it is important to choose a hotel with a free cancelation policy.
Benefits of FREE cancellation

Peace of mind: When tourists have a free cancelation policy in hotels in Darjeeling, tourist may book hotel without worrying about cancelation charges. Indeed, this policy helps tourists to book a room far in advance or if tourists plane is tentative.
 
Flexibility: If tourist changes tour plan, tourist may easily cancel hotels reservation without any charges. As a result, tourist may change travel dates or if tourist have to cancel whole trip altogether.
 
Save money:  Free cancelation polices always save money on hotel stay. In fact, hotels always charge for any close to date cancelation.
If any tourist looking for hotels in Darjeeling with FREE cancelation, there are few things tourist may think to find out. Importantly, tourist must check website or call the hotels directly about hotels cancelation policy. Tourists may use travel search engine to filter results by hotels with FREE cancelation.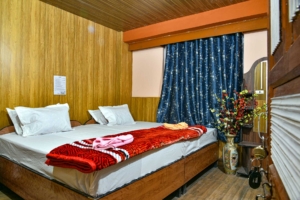 List of Hotels in Darjeeling with free Cancellation
Darjeeling Hotel Singalila: Best Darjeeling hotels near mall
Address: Upper Toong Soong Rd, Tungsung Basti, Darjeeling, West Bengal 734101
Phone: 082936 69156
 
Darjeeling Hotel Summer Palace:
Address: Hill Cart Rd, Chauk Bazaar, Darjeeling, West Bengal 734101
Phone: 070475 69156
 
Darjeeling Hotel Singalila
Darjeeling is lovely tourist destination that is known for its excellent views, milder weather, and delicious food. If you are planning a trip to Darjeeling, you will need a place to stay for comfort. Hotel Singalila is a charming option for budget travelers who are looking for clean room and hotel near Darjeeling mall. In other words, hotel is located in heart of Darjeeling, just 5 minutes walking distance from mall. Furthermore, this location makes Singalial one of the best Hotels in Darjeeling near mall. The hotel has a good restaurant that serves up delicious Bengali food. In addition, Singalila offers different meal plans such as, room with breakfast, MAP, and APAI.
 24-Hour Geyser Facility
Another good thing about Hotel Singalila is that it has 24- hours' geyser facility, which is very uncommon in Darjeeling. In other words, you will get hot water for shower, no matter what time of day or night. This excellent facility is really important when you are traveling with kids and elderly relatives.